Podkast #4 – "Citizen Outsider Radio" – Monday @ 6:30 PM

I felt the most holistic way to begin the counter offensive regarding Animal Services Control Board advocacy regarding MANDATORY microchipping would be to deconstruct all my documentary footage and reconstruct a montage of how the advocacy has unveiled from February thru July. In the performance argument kritik "RFID Free Flow Show" we edit clips in February next to March for listeners to see how the advocacy is in motion like a moving target. Check out never before clips from our youtube videos archives.
Worked on this piece last night from 8:00 PM thru 8:00 AM after running into Furly Travis and Molly Hayes. Daniel and I were supposed to broadcast live at Wake the Dead, however we could not lock it in because our laptop computer could not sync with the server. However, throughout the week i kept being called to go to WTD. It was Furly's birthday and I am glad we went. Furly and Molly do much of their own independent music and it got me to thinking.
SHOW AIRS : Monday PM @ 6:30 Live – the montage is 18:33 minutes
http://www.blogtalkradio.com/lmc4sanmarcos
Please feel free to copy and paste the html in the widget on the right hand side at blog talk radio. You can put the player on a website, myspace, your blog. There are also share functions for twitter and facebook. Please get the message out so that we will be mobilized to strike.
——-

Podkast #4 description below:

——-
performance argument kritik
audio montage
by Citizen Outsider Radio
The citizens have told the Animal Services Control Board thru participation at Educational Hearings, Pubic Hearings and City Council meetings how they feel about mandatory RFID microchipping of their critters. For this week's edition of Citizen Outsider Radio we composed a "Free Flow RFID Show".

Our podkast montage incorporates clips from heated public hearings, packed council meetings, live talk radios interviews, discussions with citizens, and protests to give insight into the deeper issues regarding mandating RFID in our community. One, Ethical/Religious issues and Two, the microchip does not get at the root cause of the problems of animal euthanasia and owners not finding their lost pets. Clearly San Marcos is taking care of a countywide problem regarding animal services.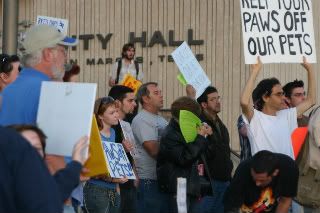 Thank you to the hundreds of residents who stood up for our rights back in March to make San Marcos the first city in the nation to overturn a mandated RFID pet ordnance. Lets continue our fight because the Animal Services Control Board is back this July placing it on their table.
So, short cut open a new window in your browser, hit f12 to pump up the volume and lock it in for a Free Flow RFID Show on Citizen Outsider Radio.